Spider Web Tattoos Designs, Ideas and Meaning
Spider web tattoos are a popular choice of tattoo designs even though they are frequently portrayed in a negative light. These tattoos are generally associated with dark themes such as prison, murder, racism and violence. However, the spider web tattoo can also signify many positive attributes. The spider web is truly a great piece of art when looked from a non-judgmental perspective. It is thus often associated with the ideas of creativity and beauty. A sense of mystery is also attached to the image of a spider web. This symbol has been closely linked to the culture of the Native Americans who have associated it with the character of Spider Woman as well as the dreamcatcher symbol, both of whom bring good dreams to newborns and older people. The symbol of a spider tattoo is also believed to possess magical qualities that protect the wearer from harmful elements.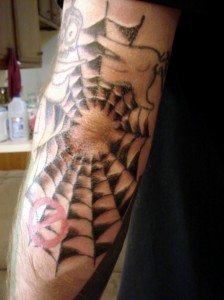 Choose from these beautiful spider web tattoos presented here to add a touch of mystique to your aura.