Cat Tattoos Designs, Ideas and Meaning
Cat tattoos are quite popular among people who are really fond of these furry little creatures. Sometimes people choose these tattoos as a remembrance for their favorite feline friend who has passed away; at other times it may actually be a symbol of the frisky nature of the wearer. Cat tattoos vary greatly in their styles. You may choose to have a cat tattoo that depicts the feline chasing after something. Alternatively you can choose to wear a tattoo that shows a minimalistic image of a cat's face. A little kitty tattoo with detailed work that focuses on the intricacies of its fur is also a very popular form of cat tattoo. A cat tattoo may depict the full body of a cat, or it may just show the head part. Sometimes people may also prefer having a cartoonish cat tattoo that shows the silhouette of the feline from a distance without any prominent eyes or facial features. Other interesting cat tattoos include the Cheshire cat and a cat playing with flowers.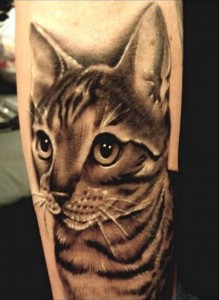 The cat tattoos presented here stand out in their design and color patterns, thus allowing the wearer to make a cool style statement.