Tree Tattoos Designs, Ideas and Meaning
Trees have been a very important part of earthly life and human culture. They provide us with oxygen and fruits, which serves as our nutrition. Tree tattoos are thus especially significant as they played important symbolic roles in various cultures of the world. The tree has been always regarded as the symbol of life. The various periodic cycles of trees have also led them to be associated with the symbolism of rejuvenation, regeneration and renewed life. In certain cultures, the tree tattoo spoke of the social grouping one belonged to or the social status one enjoyed in life. There are certain trees that are more popularly used as tattoo symbols; these include the maple tree, oak tree and pine tree. Tree tattoos can be of diverse styles, designs and color patterns, and can portray anything from a small branch to a whole tree.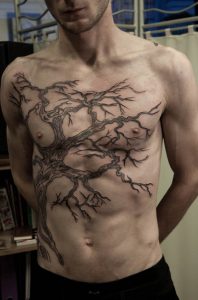 The tree tattoos presented here are ideal for both sexes and can be worn on any part of the body.