Armor Tattoos Designs, Ideas and Meaning
Achilles' armor had mythical powers; King Arthur had an almost impenetrable armor, and Leonidas had one of the toughest armors in the world. Armors were meant to protect kings and soldiers in battle, and also bore signs of the kingdoms they represented. Alas! Such days are gone, but if you're a fan of the form and style of armor, then you can have them inked on your body.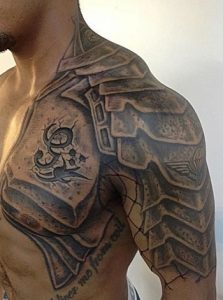 The segmented laminar armor tattoo highlights a well-crafted shoulder
The armor tattoos can cover only the shoulder or the arm, or extend from the traps to chest and end in arms.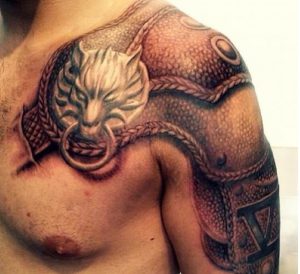 Two armor tattoos bearing the lion motif. In the second image, the whole of the chest is covered resembling the antique metal armors.
Different types of armors were used like lamellar armor, scale armor, mail armor, plate armor and brigandine!
Ink any one of these on yourself, or create your own idea!